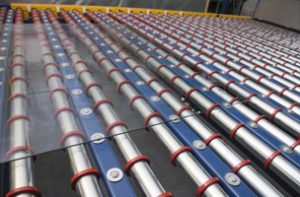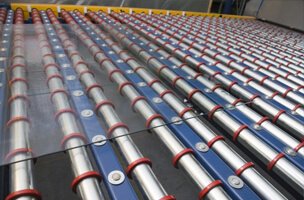 Jenkins Brushes are used in many different glass manufacturing and cleaning applications. Our brushes are used to clean chips, shards and shreds in glass cutting applications. Our brushes
are used in regular and low E applications. We have made brushes for special glass applications where 316 Stainless Steel core and brushes were filled with very soft materials so the glass will not be damaged if your application calls for it.
Jenkins Brushes are used to convey sheets of glass in your manufacturing process. They are used to transfer material from one conveyor to another. Our brushes are also used to line sides or rails on conveyors to help prevent damage. Jenkins manufactures brushes to fit many different glass machines. In many applications our brushes are better than the OEM.